Ken & Denise Valentine at Waxahachie Town Square Car Show.  
Ken Valentine owner of "Greasy Strangers Garage"
No Risk to seller-Zero upfront cost-No charges due til your classic car/truck sells and you have cash in hand………also will locate classics for finders fee.
Ken was born and raised in Long Island, New York.
"But he got to Texas as fast as he could."
Ken's first experience with classic cars started when he was about  12 years old.  His family lived  in a modest Long Island, New York neighborhood.  And he had an old gentleman neighbor that lived on the corner of their street that had a garage full of rare classic cars.  Ken became friends with the old man and would hang out with him in the garage and learned how to polish fenders on the classic cars.  Ken said every time there was a parade in town you would see the old man driving one of his classics cars that Ken had polished.
Ken said when he was 15 he was walked to school and back everyday (in the snow up hill both ways) and one day on his daily walk he noticed this early 1960's model MG Midget parked in one of the driveways on his way to and from school.  The MG was a neglected project car that just sat in the driveway unused, uncared for and unloved.  Ken said he felt this little car calling his name (Ken help me! help me!) everyday when he walked by.
Ken couldn't resist the little car's calling any longer so one day he got up the nerve on his way home from school knock on the door and ask if the little car in the driveway was for sell.  He was told that the owner wasn't there today to come back tomorrow.  Ken came back the next day and talked to the owner and bought the MG Midget which was his first car for $50.
Ken and his friends pushed it home and he began to work on the engine trying to get it to run.  After some study, time and effort they got it running and sold it for a small profit.  And that is when the classic car bug bit Ken.  From age 15 to 18 Ken had bought, repaired and sold about 24 different cars.  He had a '60 Triumph TR3, '67 Camaro, '67 Cougar, '61 Plymouth Fury III, several pick ups including a '52 Ford pick up that he still owns today and he took Richard Rawlings for a spin when Richard came out to view Ken's collection and make a deal.
Ken started his excavating business in 1980 with his '52 Ford F1 pick up.  At some point he had to upgrade to a newer truck and he retired the '52 Ford. Ken decided to keep it and he planned to get it restored and drive it as his personal vehicle.  Ken took the '52 Ford to several auto body shops over the years to get it restored.  He said there always seemed to be some reason why they couldn't get started on it.  Ken decided to gather up all the pieces of the '52 pick up bring them home and do the restoration himself.  In mid January 2012 the '52 Ford pick up is back on the road.  If you come out to take the classic tour ask Ken for a short cruise in his 1952 Ford Pick Up.
Ken Valentine owner of Greasy Strangers Garage with sign that Billy "The Kid" Hamilton made for Ken's birthday in 2016.  Call or text Ken for appointment to view a classic car or truck of interest in Ken's collection after 6 pm weekdays anytime weekends at 817-229-1014 tell him Gary sent you……if he doesn't answer leave a message….if he doesn't call you back in a day or so call or text Gary at 972-935-1660 or email at gary@atouchofclassicstx.com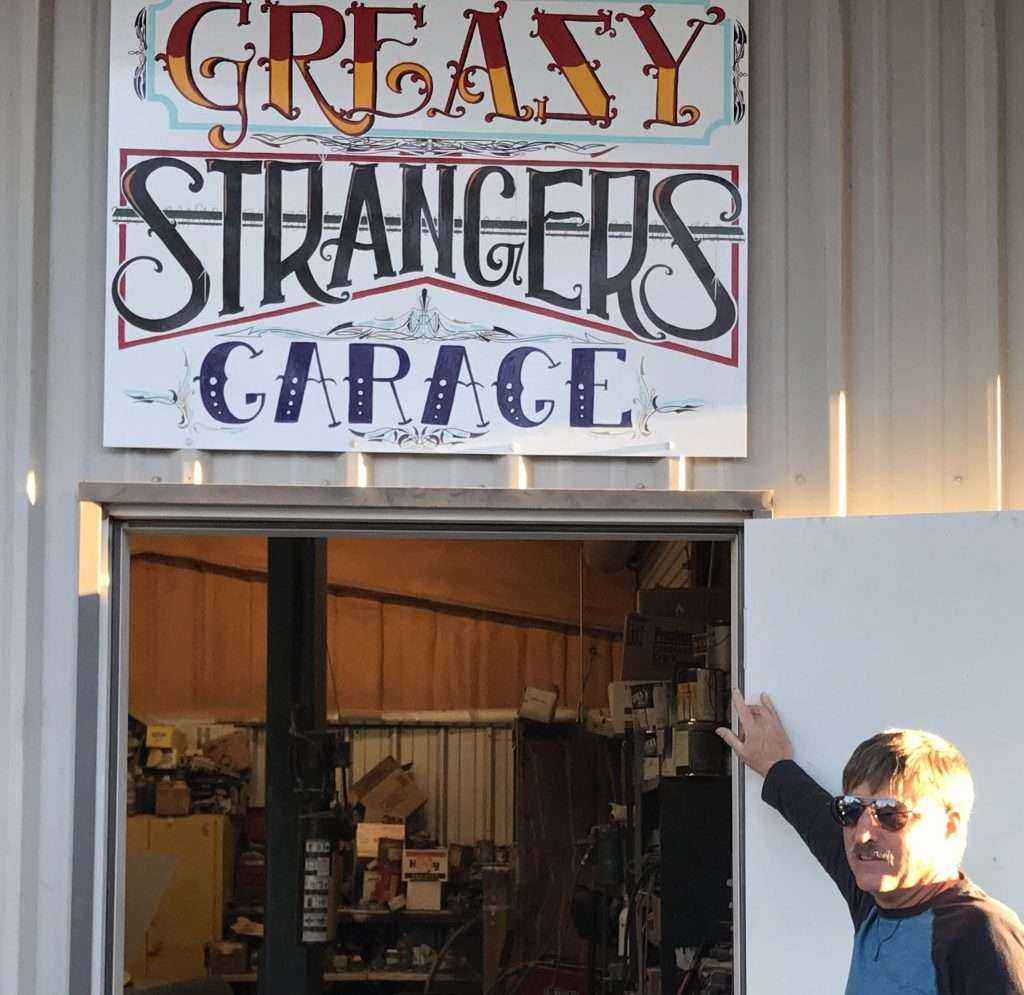 Gary Greer 2018 owner of "A Touch of Classics"
Gary Greer in 1975 with his 1st muscle car 1966 Chevelle. 

I started "A Touch of Classics in 2011 after trading a 1996 Volvo wagon for a 1966 Ford Mustang Coupe.  The 1966 Mustang had been dead in the previous owners garage for 10 years. I brought it back to life and back on the road again after 10 weeks of work, got it tagged and inspected and sold it for a small profit. This was the first time I had tinkered with classic cars since about 1980.
I really enjoyed getting the Mustang back on the road again and decided to buy another classic Mustang to fix up and sell.  As I was shopping for another Mustang I went to check out a 1967 Mustang Coupe that I saw listed on Craigslist owned by Ken Valentine.
After Ken and I discussed the 1967 Mustang and Ken took me on a tour of his classic car collection.  Just before I was about to leave Ken asked me I would be interested in helping him market his classic cars.  I told Ken that sounded like a fun way to make some extra money.  And our classic car partnership began.  I now have several classic car collectors that I work with and many individuals that I list cars for and we have approx 500 vehicles available for sale or trade.  If you are looking for a particular classic car or truck or have a collection or a single vehicle you would like to sell call or text me at 1-972-935-1660 or email gary@atouchofclassicstx.com
Thanks, Gary